Coronavirus in Austria - Update 3rd April 2020
Property Market in Austria
Coronavirus in Austria - Update 3rd April 2020
---
The article topic
Property Market in Austria
,
Austrian Lifestyle
---
3 Apr 2020
Austria is currently one of the 15 countries in the world most hit by the coronavirus. The first case of Covid-19 in Austria was reported on February 24th. As of April 1st 55,800 people have been tested for the disease with 10,668 confirmed Coronavirus infections and 150 deaths. Tyrol which has a direct border with the northern Italian regions severely hit by the pandemic is so far the most affected Austrian state with 2,454 confirmed cases. But due to the high infectiousness, the virus has already spread to all parts of the country with Upper Austria reporting 1,729 cases, Lower Austria 1,687, Vienna 1,547, Styria 1,125, Salzburgerland 976 and Vorarlberg 671 cases. So far, Carinthia and Burgenland have been the least affected with 293 and 188 cases respectively.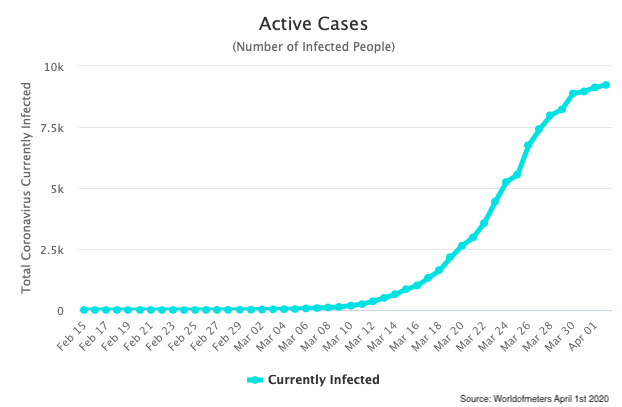 Austria has adopted major restrictive measures on public life early on including the closure of schools, kindergartens, universities, public institutions, hotels, accommodation facilities, galleries and museums. All bars, restaurants and cafes have shut down, all outdoor and indoor events cancelled and any larger gatherings banned. The only shops allowed to remain open are supermarkets, pharmacies, post offices and banks. The government asked the general public to avoid social contact and limit leaving home to work commute, essential shopping, short health exercise outside or to help people in need (e.g. elder people with essential shopping). All people must strictly obey social distancing rules. The government has also recently introduced compulsory wearing of protective face masks in supermarkets (and anyone entering a supermarket will be provided with a face mask there). All restrictions will remain in place at least until the end of Easter.
Some areas have been put under quarantine and completely isolated. These include 297 Tyrolean municipalities including for example well known ski resorts Sölden or Ischgl. Also in other federal states some other ski centres are in complete isolation. In Vorarlberg, the world-famous and royalty-favourite Lech is under quarantine as well as popular lakeside resort Zell am See, or nearby Flachau, Altenmarkt, Saalbach and three towns in the Gastein Valley: Bad Gastein, Bad Hofgastein and Dorfgastein.
Whilst it is still too early since the virus outbreak to make any conclusions about the results of the lockdown, it seems that the restrictions are starting to work and contagion is slowing down. The infection curve is starting to flatten out with the number of new cases slowly stabilising. Testing capacity is increasing every day. If the trend continues, Austria should be able to tackle the virus successfully and avoid the tragic outbreak witnessed by some other European countries.
A decisive factor in the battle against the virus is a strong and well prepared healthcare system. According to OECD, Austria has 28.9 intensive care unit beds (ICU) per 100,000 people - this is second only to Germany and for example four times as many as in Italy. With the currently registered 16,000 confirmed Covid-19 cases, the ICUs are not fully occupied. Even in Tyrol, the most affected state, only about one halve of ICUs are occupied by ill patients. Should the need arise and serious cases dramatically increase, Austria has plans to build out new "field hospitals". Thanks to this large capacity, Austria has been able to help other European countries in the fight against the deadly virus with patients being transferred from Italian Südtirol and from France.
The scale of protective measures and border shutdown have seriously impacted the Austrian economy. For example, tourism which normally contributes by about 10% to Austrian GDP will be particularly hit. This is why the government has been swift in adopting an emergency fund worth 38 billion euros aimed at protecting the economy and taking companies through this dry spell. The measures focus on preventing the increase of unemployment and include the extension of the so called "kurzarbeit" or short-term work which prevents companies to lay off their employees allowing to reduce working hours up to 10% of normal pay and state paying up the balance. The government also introduced guarantees and liabilities to secure loans to keep companies afloat until the consumer cycle can relaunch. A special package has been adopted to protect the very important hospitality and gastronomy sectors. Fiscal measures and tax deferrals should take off weight from shoulders of entrepreneurs and businesses.
What is the situation like in the construction sector and real estate ? Domus Global is in close contact with many Austrian developers, construction firms and real estate agencies. While our partners have taken measures to protect their employees, they tend to have a constructive approach in order to stick to initial building plans as much as possible and avoid disruptions. Construction works have not been banned by the government, so tasks where social distancing measures can be maintained are progressing. Most projects with planned construction start in spring or summer are still on schedule. Law firms and notary offices continue their activity with employees working from home so ongoing sales should not face any delays due to the current situation.
---
Back to the list of articles