Discovering Austria : The Hochkönig - Dramatic Mountain Peaks, Laid-back Vibe and Countless Attractions Year-Round
Austrian Resorts News
Discovering Austria : The Hochkönig - Dramatic Mountain Peaks, Laid-back Vibe and Countless Attractions Year-Round
---
The article topic
Austrian Resorts News
,
Austrian Lifestyle
---
25 Mar 2019
Anyone who's skied or hiked in the Italian Dolomites may struggle finding a similarly dramatic and scenic mountain landscape elsewhere in the European Alps. But if you love a spectacular panorama with rocky alpine peaks and steep cliffs along with wild natural experiences, the Hochkönig area in northern Austria may just do the job. This splendid Austrian resort nestled in a narrow valley under the Hochkönig massif yet just 50min away form Salzburg, is a great getaway that will encourage you to disconnect from everyday routine and simply rejoice in the alpine surroundings.
Other similarities with the Dolomites include laid-back vibe, affordable prices and delicious hearty mountain dishes. Least but not last, the Königstour, a signposted ski trail, crossing 6 summits, 32 kilometers and 7,500 vertical meters, resembles the Italian Sella Ronda and offers an unforgettable day trip with breathtaking views and inviting rustic huts on the way.
But it is not all about skiing and winter - the area is equally appealing in the warmer seasons when you can properly dive into the Austrian fairytale land with its customs and traditions. So what are the main things to do in winter and summer and what are the valley towns like?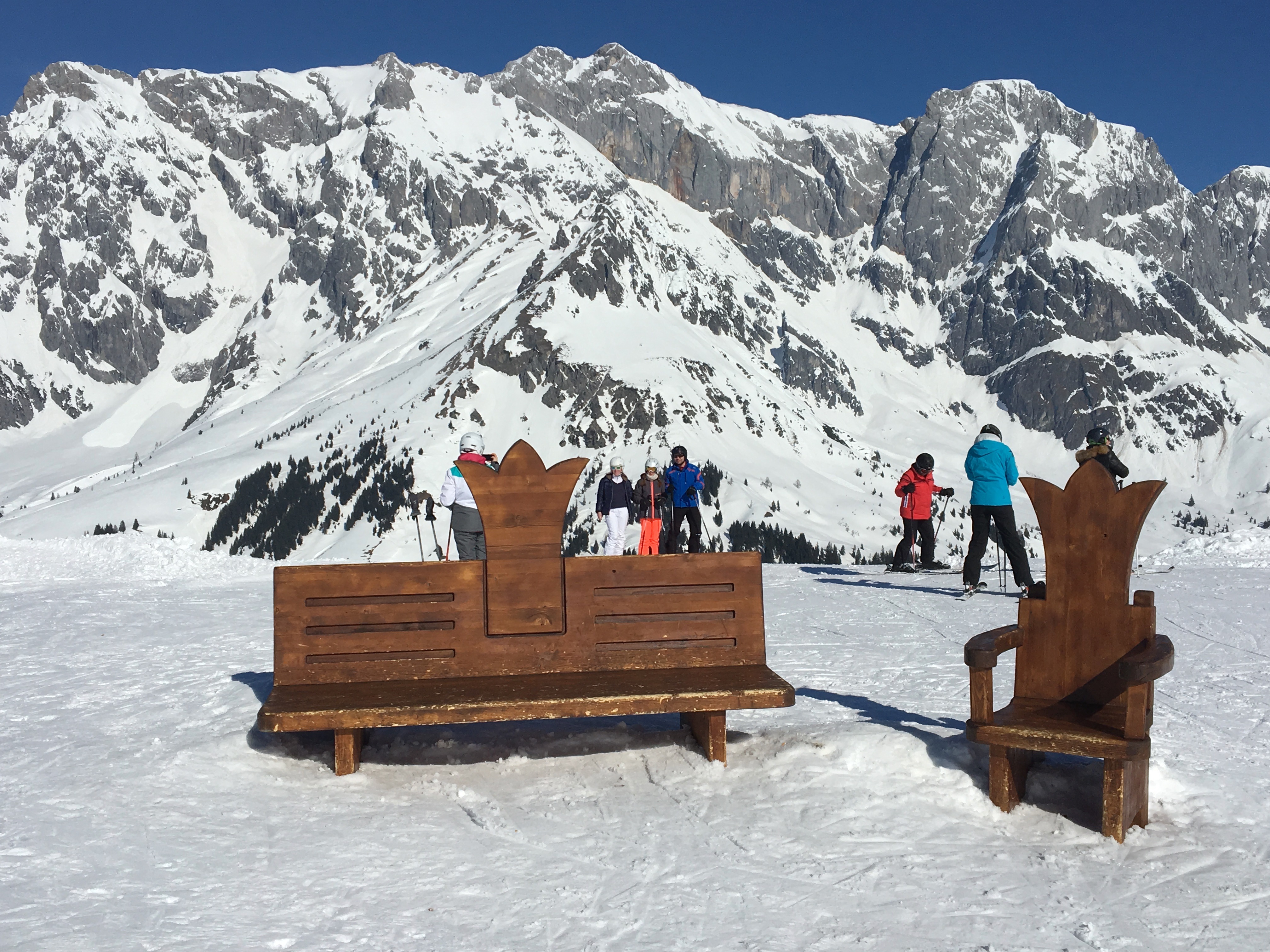 Enjoy some glorious skiing with sensational views
The Hochkönig ski area is quite unusual in its shape and topography. The slopes are spread across an impressive width of 15km from the western lift base in Maria Alm to the eastern lift base in Mühlbach, so skiing here is always a real excursion with constantly changing views. The terrain is mostly wooded pistes with an overwhelming majority of medium-difficult red slopes. Wherever you start, it is difficult to get lost as the network of slopes is rather thin, leaving in most cases just one choice of route. The total ski area is about 120km and whilst the altitude is more on the lower side, the snow-making system is very effective, so ski season typically lasts long into spring. As the area is covered by the Ski Amadé lift pass, it is easy to explore other resorts in the vicinity under this umbrella ski pass.
For lovers of freeriding, the Blue Tomato Kings Park is one of the longest snow parks in Austria with its 1.8km course and over 50 obstacles from butterboxes and kickers to jib features or elephant rails.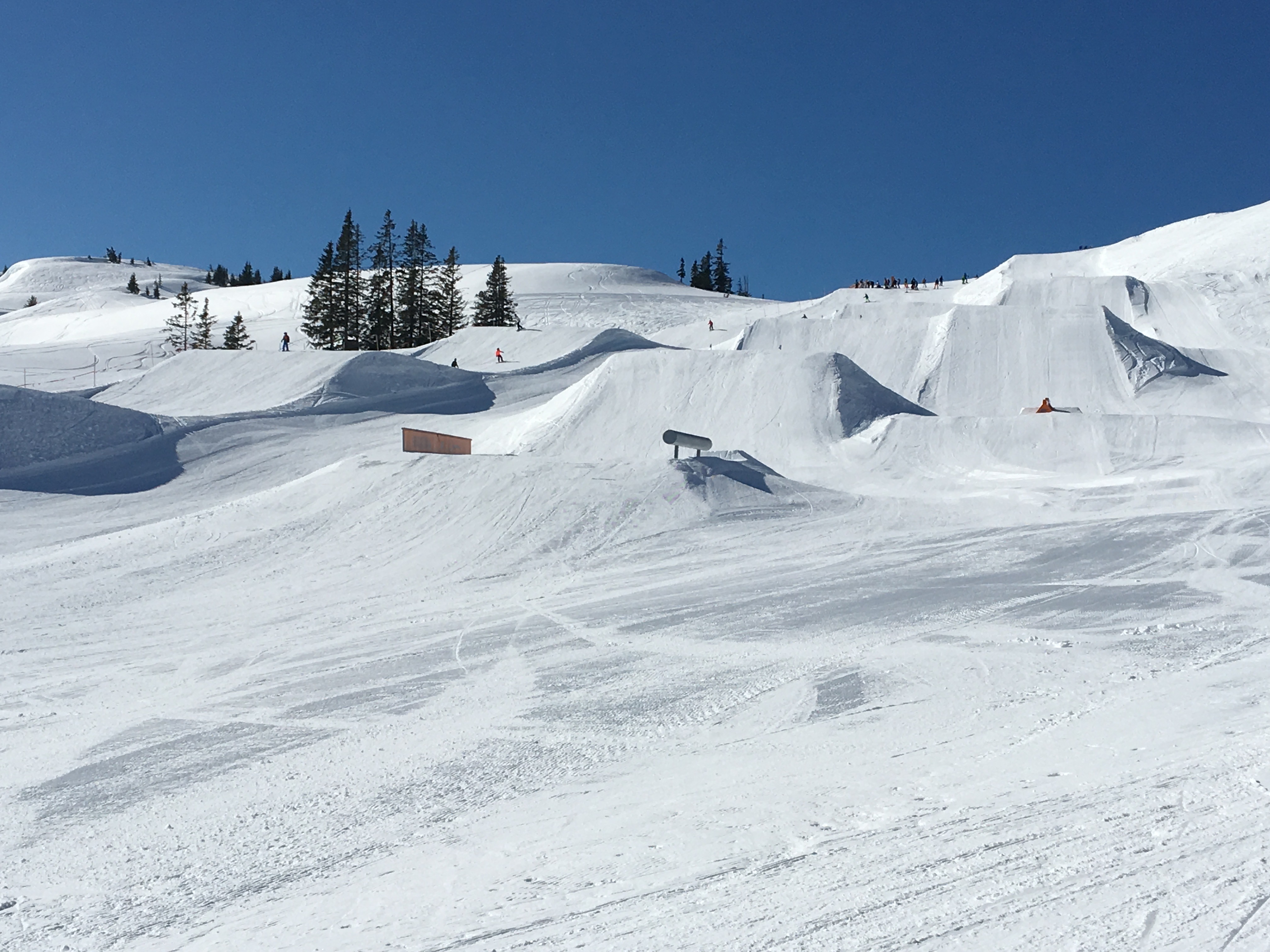 Co-pilot a snowcat or join a session of morning skiing with ski lift managers
If you like to be the first on the slope to carve the untouched perfectly prepared terrains, you can sign up to one of the early morning skiing sessions taking place every Wednesday where you join one of the lift managers for a couple of hours of undisturbed skiing and finish off with a delicious breakfast in a ski hut once the crowds start filling the slopes. If, on the other hand, you are not a morning bird and prefer to ski under the stars, you can enjoy some night skiing on the flood-lit slope of the Simmerl lift in Maria Alm. Every Tuesday this slope hosts an evening performance of ski stunts, freestyle performances and torches relay.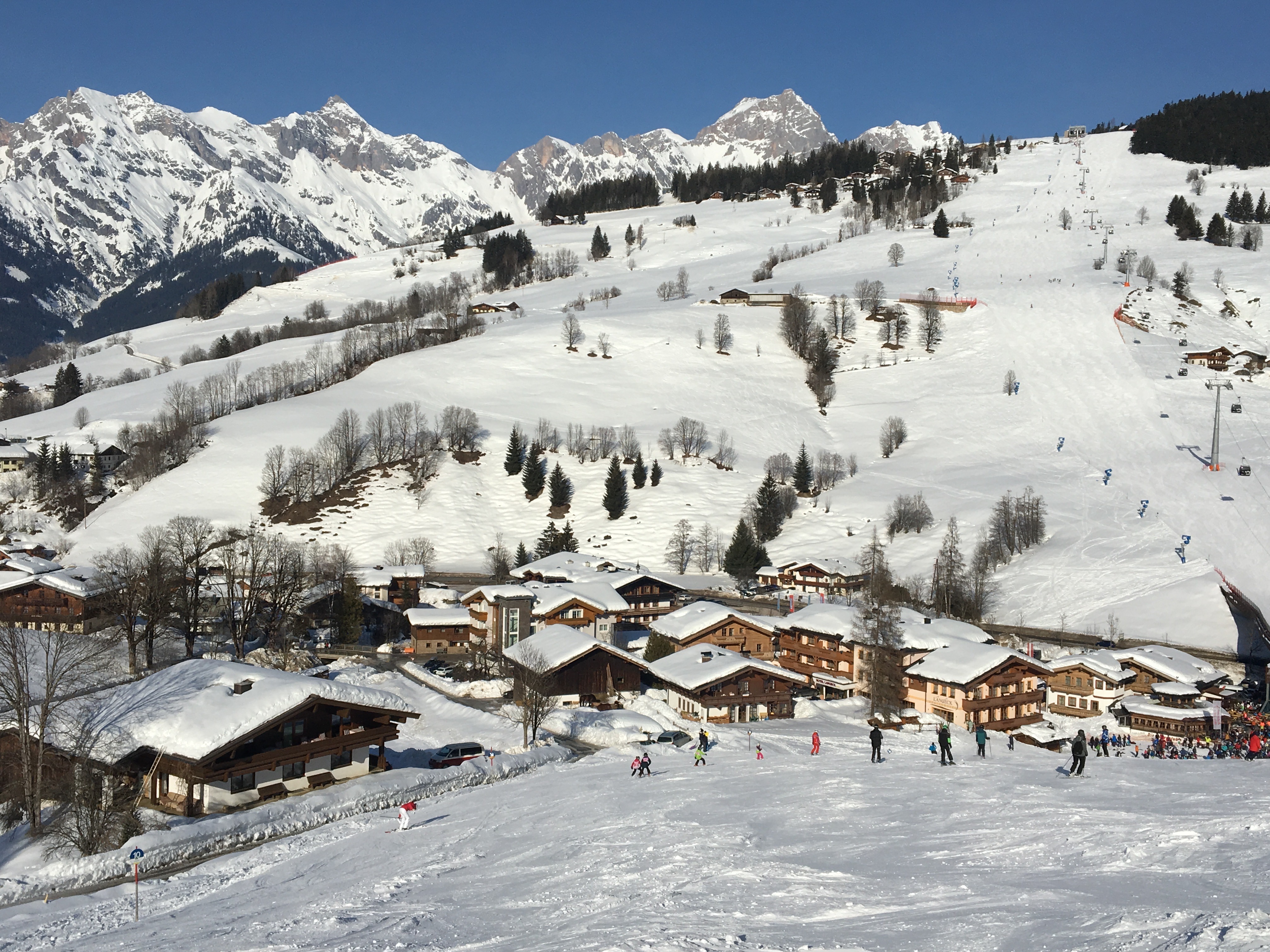 Cuddle up in a romantic horse-drawn carriage ride through the valley
If skiing or snowboarding is not your thing, cheer up, your day can be just as well eventful and fun. There is a wide choice from more active options such as tobogganing on the flood-lit toboggan, cross-country skiing on the 40km of groomed trails, ice-skating or even geocaching to less demanding but incredibly rewarding activities including a ride on a horse-drawn carriage.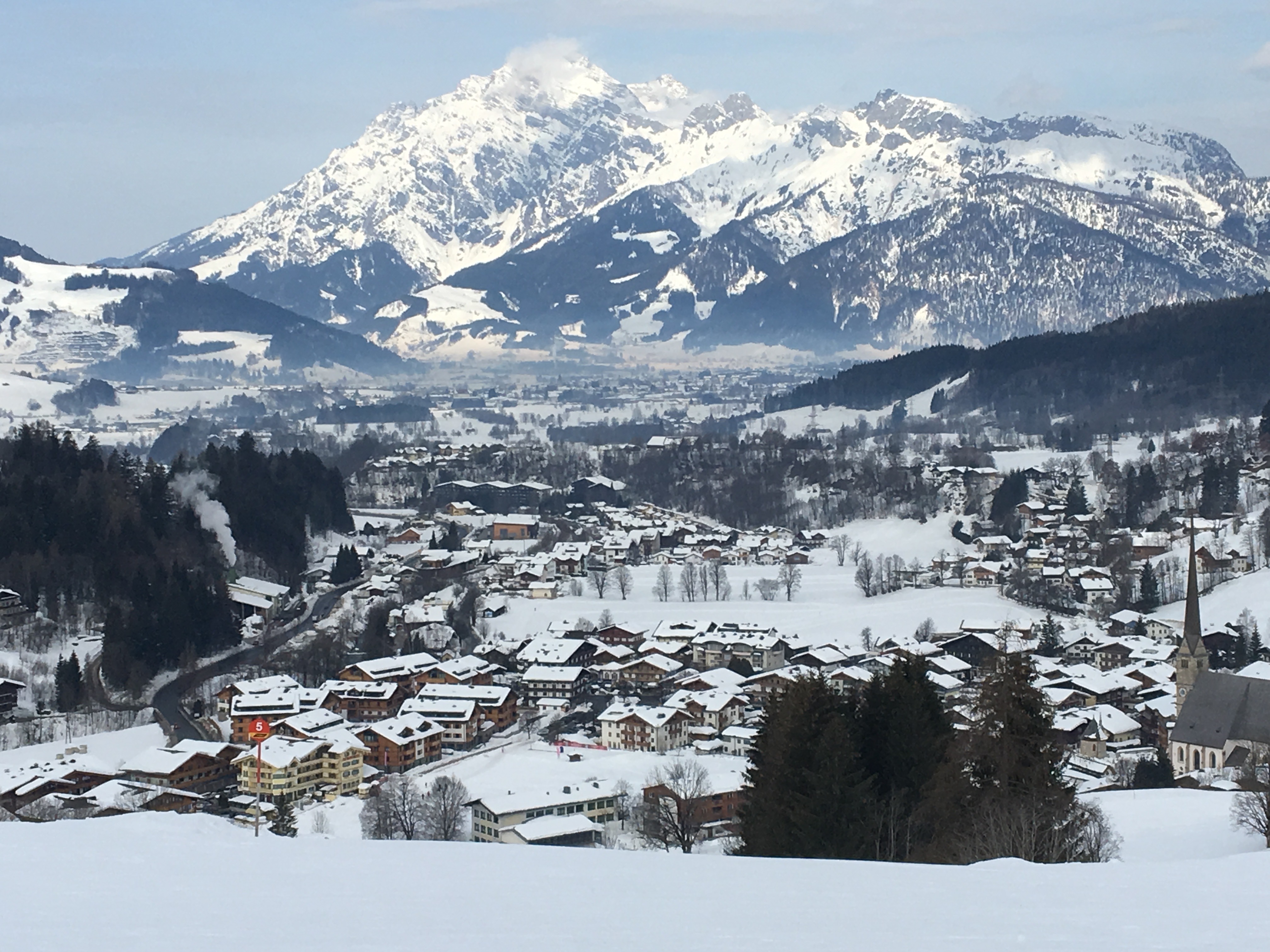 Become a true herbs connoisseur
The Hochkönig area is rightly proud of its culinary delights and whether you ski or not, tasting the local cuisine is mandatory. Local herbs from the region have achieved a real reputation and are put into work to produce original dishes with unexpected yet exquisite taste. Ever tried a prosecco with herb syrup? If you rather to stick to the classics, a fluffy Kaiserschmarnn,, a filling Germknödel or spicy goulasch soup will never disappoint either. And where better enjoy these delicacies than on a sun-drenched terrace of one of the mountain huts below the peaks of the imposing Hochkönig massif?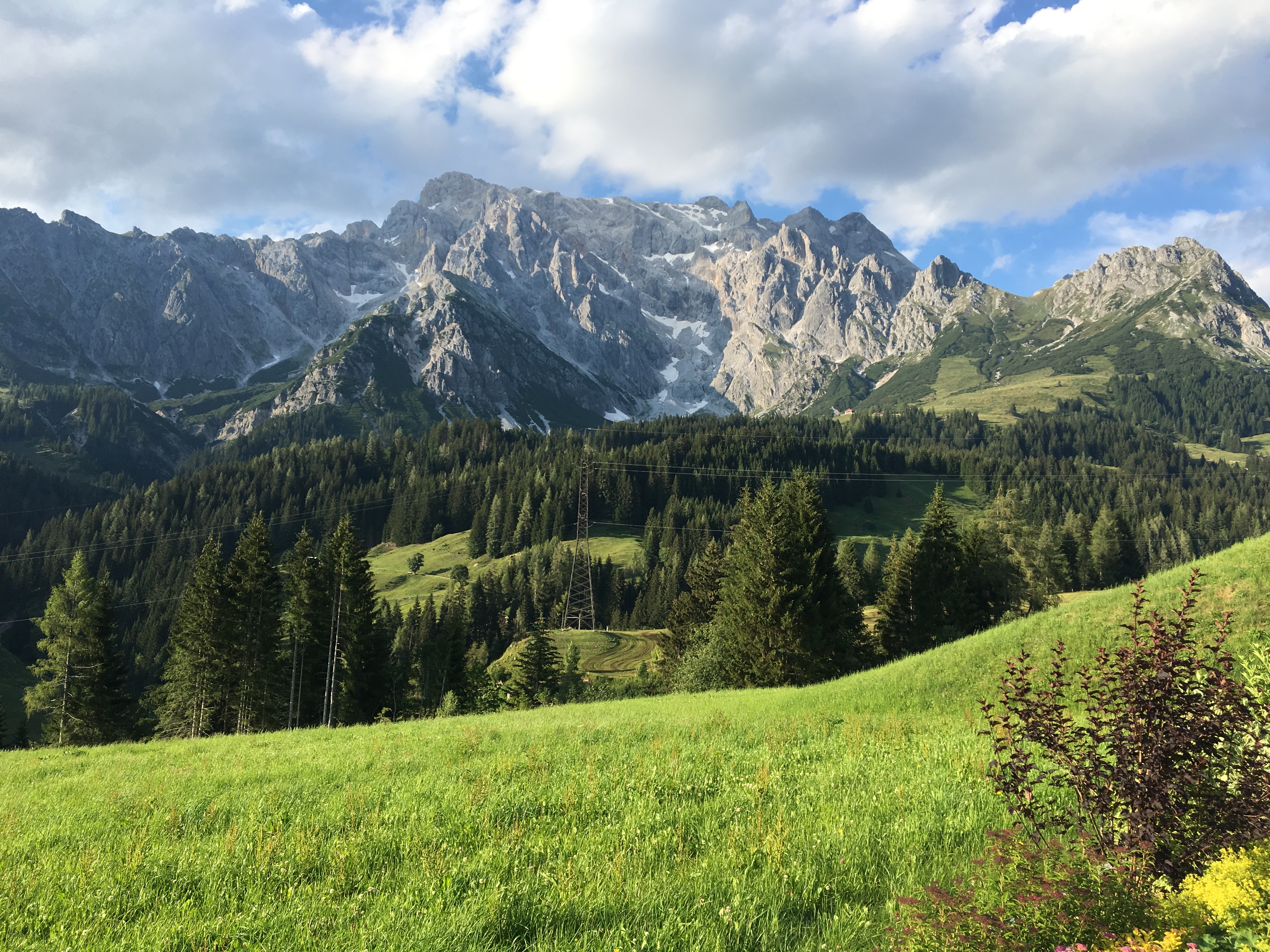 Visit the Harvest Festival to learn more about the rural traditions of the region
Fast forward and summer reveals a completely different face of the region that remains largely traditional with focus on farming culture and old customs. The rural heritage is especially evident during the harvest festival with its cattle drives and folk-wear fashion shows. The month-long (!) programme is open to all and includes spirit distilling demonstrations, guided sunrise hikes, sheep drives and cookery courses.
Challenge yourself whilst hiking amid the stately mountain peaks
Whether you prefer an afternoon walk to the mountain hut to digest your lunch or a full-day summit tour to challenge yourself, the extensive network of hiking paths in the Hochkönig offers myriad possibilities for a leisure hiker or experienced mountain climber alike. 340km of marked trails await, leading to stunning vantage points and pretty traditional villages. Several gondolas remain open in summer and together with frequent buses connecting the valley towns allows visitors to move fast across the rather extensive area.
A speciality of the region are the so called herb hikes that take you to one of the 71 herb farms in the area where you can not only learn about the medical powers of these plants, but also taste some of the dishes, salves or spirits made from herbs. The "Green Thirteen" is a 107km long-distance herb hike split into 5 stages that is ideally completed over 5 days. There are some great accommodation options for each stage in mountain hotels or herb farms and you can also request a luggage transport service. Finally, the real highlight is the Königsweg, a 73 km exhilarating long-distance hike alongside the Hochkönig massif.
Take the exciting ride on the alpine coaster or enjoy a scenic golf game
One of the best summertime experiences in the area is the 1.6 km long summer toboggan run on the Biberg in Saalfelden. This action-packed ride is a real blast dropping over 345 vertical meters and combining 61 fun curves, and 3 super jumps. Right at the bottom of the coaster is the Sport Simon Kiddy Park with its 120 m long bike course with obstacles where kids can attempt their first freestyle bike moves.
If you are a keen golfer, you will be amazed by the Urslautal Golf Club located in an enviable setting between Maria Alm and Saalfelden. Austria has some stunning golf course spots, but this one really stands out with its gorgeous mountain views.
Which town to pick for your stay?
There are 4 main towns in the valley - Mühlbach, Dienten, Hinterthal and Maria Alm, each with direct access to the slopes and its authentic charm, so it will very much depend on your style and preference. The area is not a party destination as it is more targeting families and couples, so head to the ski huts for a fair share of après ski action.
Dienten is probably the most convenient in terms of skiing given its position in the middle of the wide valley. Mühlbach is a real heaven of peace with the lifts situated on the western end of the community, so there is no skiers traffic through the town and relatively few hotels and pensions. Maria Alm is a real Austrian postcard town with its picturesque church, traditional houses and perfect mountain backdrop. It is also the most lively one of the valley towns with a busy après-ski bar, good selection of restaurants and a well-known traditional bakery.
---
Back to the list of articles