New Ski Facilities in Austrian Ski Resorts for the 2018/2019 Winter Season
Austrian Resorts News
New Ski Facilities in Austrian Ski Resorts for the 2018/2019 Winter Season
---
The article topic
Austrian Resorts News
---
3 May 2018
Can't wait for the winter to get on your skis again? Look forward to new ski and snowboard adventures? Read below about your favourite ski resorts and see what's new for the 2018/2019 season!
Maiskogel - Kaprun
From December 2018, the new MK Maiskogel 10-person cable gondola will take skiers and snowboarders up directly from the town of Kaprun (768m) to the Maiskogel mountain (1,570m) via a middle-station at 1,137m where a new family area centre will also open. This is the first stage of the landmark K-ONNECTION project which from December 2019 will connect the Maiskogel Mountain (1,570m) with the Kitzsteinhorn Glacier (1,975m). It will be one of the longest cable car axis in the Alps. The construction of the ropeway is underway from April 2018 and will not only mean extra comfort for visitors thanks to the new state-of-the-art facility, but also less queues as this will alleviate the traffic on the busy Gletscherjet which is currently the only ascent route to the glacier.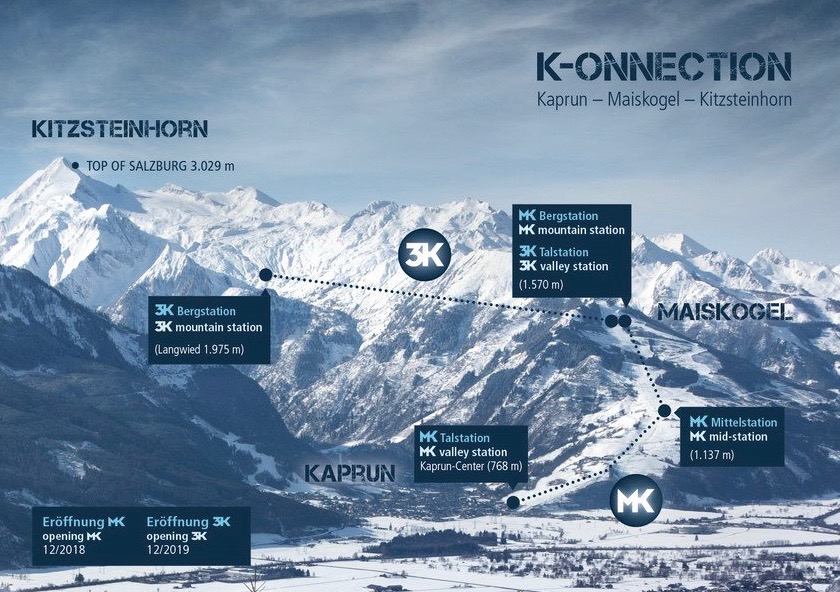 Find a Property on Sale in Zell am See / Kaprun
Bad Hofgastein
In Bad Hofgastein, the Schlossalm, a modern circulating mono-cable aerial ropeway with capacity of up to 10 persons, is due to open in December 2018. This facility is the core part of the EUR90mio investment upgrade project of the Schlossalm skiing area. Whilst now visitors have to cross a busy main road to access the funicular railway leading up to the mountain, the new valley station will be moved closer to the centre meaning less hassle for skiers and snowboarders. The top station will also be situated slightly higher giving visitors the choice of three descent slopes at the top. Thanks to the new cableway, capacities will double reducing waiting times and increasing comfort. The ambitious project will also bring new catering facilities, upgrade of several chair lifts and create new wider and safer slopes. A footbridge will also be created at the top between the old and new station.
Find a Property on Sale in the Gastein Vallley
Saalbach / Hinterglemm
December 2018 should also see the opening of a new 10-person gondola lift that will replace the Kohlmaisgipfelbahn in Saalbach. With capacity of more than 3200 people per hour, this upgrade will increase comfort, speed and efficiency and visitors can look forward to a quicker ride up to the Kohlmais mountain from the centre of Saalbach. In addition, a new 8-seater chair lift with heated seats and bubbles will replace the older Asitzmuldenbahn.
Find a Property on Sale in Saalbach / Hinterglemm
Stay tuned for further 2018/2019 news from Austrian ski resorts!
---
Back to the list of articles